Growing your business, staying connected, and supporting your community is easy for Haymarket Gainesville Business Association members.
Contact a Board member today to learn more about how you can get the most out of your HGBA membership!
Can I bring a friend to a meeting?
Yes! Non-members may attend two meetings before we ask them to join the HGBA. You should both bring plenty of business cards to every meeting
How do I become a Spotlight?
Our Member Spotlights are chosen by drawing business cards at each monthly member meeting. Your free spotlight will be featured by a link on our website home page and in our newsletters. The spotlights are up for one month. They make great marketing links for your own business.
Can I have a meeting at my business?
Yes, we encourage our members to open their doors. Your business will need to accommodate 30-50 people for two hours, offer seating, have an area for speakers, light appetizers and beverages and a welcome table. Your business will receive recognition for at least two months online. Contact events@hgba.biz
Do I pay for individual meetings?
No, our regular member meetings are free. The cost is included in your annual membership fee. Through our alliances with other associations, HGBA members are usually offered "member" rates for their meetings. We will let you know in advance when the event is advertised. For some specific celebrations, alcoholic beverages may be offered as a cash bar. This is at the discretion of the host and venue.
How do I get my event on the HGBA's Facebook page?
All current members may post their events on our facebook page. This is a great idea in addition to having your event on our website and in the HGBA newsletter. Make sure you are logged in to Facebook through your own Facebook account.
1. Click the icon on our HGBA.biz home page or go to http://www.facebook.com/HGBizA

2. Click on the Events tab.

3. Click on the + Create Event button. Fill out your information and click the CREAT EVENT button.
How do I renew my membership?
We send an email two weeks before your year is up. It goes to the email we have on file. You will be able to click on the link in the email and go directly to your profile to renew/update. The email we have on file is the email shown in your public directory profile.
How do I get my sponsorship opportunities, help requests or coupons out to the membership?
Just email info@hgba.biz. Include jpgs, PDFs, web links, emails, phone numbers and any other pertinent information. We will post your news to our calendar, often highlight it in our newsletter (based on timing), and post the details on our website on our COMMUNITY SUPPORT page.
How do I become a speaker?
We offer approximately 30 minutes of presentation and Q&A time to our Key speaker and 10-15 minutes to our Non-Profit speaker. You may hand out any marketing materials, and will receive recognition for two months online. Let us know if you need an audio visual set-up. We will ask for a bio, photo and website. Contact event coordinator at events@hgba.biz and tell them what you would like to share with the HGBA membership.
How do I check or update my profile if there is a change during the year?
You can update your online directory information (profile) by clicking on RENEW OR UPDATE YOUR MEMBER PROFILE on the bottom of any HGBA web page.
Do you sell or distribute my profile information?
No, we do not sell or distribute your information. We also do not use our newsletter list as an advertising vehicle for our members or to supplement a list your business may already have. All members benefit by having their businesses listed on our online directory. This information is automatically posted when you join and is publicly available. If for any reason, you want to be a member but NOT show your profile online, or if you are a current member and do not see your profile online, contact Membership at membership@hgba.biz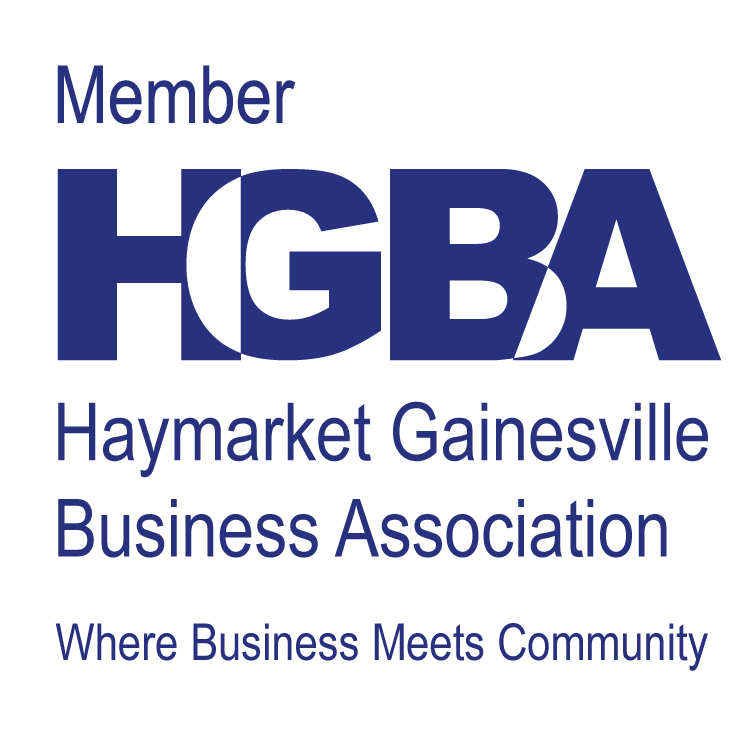 The Haymarket Gainesville Business Association encourages our members to use our logo on their print and digital collateral! Displaying the logo on your collateral lets the community know about your involvement in the association and helps build your organization's reputation.
Click here to download the HGBA Member Logo Package as a compressed folder. The logo is available as .pdf and .png formats.
Use of the HGBA logo must adhere to the association's style guide. Click here to download the HGBA style guide. Should you have any questions in regards to the style guide or use of the HGBA logo, please contact the chair of the marketing committee or any board member.