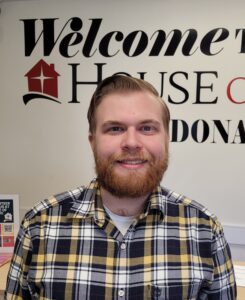 Name: Ryan Walker
Business: House of Mercy
Address: 8170 Flannery Ct.
Phone: 703-579-0281
Email:rwalker@houseofmercyva.org
Website: houseofmercyva.org
When and why did you decide to join this business/nonprofit?
I joined House of Mercy in September 2020.  I had just gotten married and moved to the area for my wife's job, but due to the pandemic I could not get a job as a Recreational Therapist, which was my previous field.  Through a Bible Study at All Saints Catholic Church, I met our Executive Director Jessica Root and found out that she was looking for someone to work in Donor Relations.  My second major in college was Nonprofit and Philanthropy Leadership with a concentration in fundraising and it had been my dream to work at a Catholic Nonprofit so when I was offered the job I was thrilled.
How does your business serve the local community?
Our organization provides free food and clothing to families in need.  We also provide opportunities for our patrons, volunteers and the people we serve to grow personally and spiritually.
Please share one of the greatest moments you've experienced in your current profession.
One of the greatest moments I've experienced in my profession was when I was covering our food pantry for so that one of my coworkers could have lunch.  A young woman came in to register and as I was telling her about all the services she could receive she began to cry.  She was taken back by the amount of free food and clothing she could receive and said that no one had ever helped her this much before.  It was a blessing to see how our organization can impact someone the first time they walk through our doors.
Tell us about your experience with HGBA. 
I've had a great experience with HGBA so far.  Everyone there is wonderful and I've learned so much about small businesses and our community by being a part of it.
How has it supported you and your business?
We've made some great connections and partnerships to help support the food pantry through HGBA.  It's a wonderful opportunity for businesses to come together in support of the betterment of their shared community.
What are the top three business tips and tricks can you offer other professionals?
Care about your customers, take pride in the product or service you sell/provide and care for the people you work with.
Are you from this area? If not, what brought you here and what do you like about our town?
I grew up in Warwick NY and moved to Pittsburgh PA after college.  My wife's job brought us to Manassas and I love the area.  It's a lot like the town I grew up so I feel right at home.
What is your favorite season in this area, and why?
Fall, I love it when the leaves change.
What are some hobbies you enjoy?
I enjoy reading, writing fiction, poetry and religious essays, watching movies and walking my dog.
What is your favorite restaurant?
Mariachi's in Oldtown Manassas
Are you involved with any nonprofits?
If so, which one(s) and why? : I'm also involved with the Knights of Columbus at All Saints as well as some of their young adult ministries.
What was your first job, or your most interesting job prior to your current profession?
My first job was a summer position as a sleep away camp consoler for children and adults with disabilities.  It's that job that first got me interested in helping people and in nonprofit management.